Futures are sharply lower again after the weekend failed to provide any substantive evidence that the "constructive" tone suggested by both Steven Mnuchin and Liu He on Friday was present, and in fact, soundbites from both president Trump and Chinese media indicated that the latest trade war escalation may last well into 2020 without a resolution, with China potentially waiting to see if Joe Biden is be elected president, helping to resolve the trade war.
China is DREAMING that Sleepy Joe Biden, or any of the others, gets elected in 2020. They LOVE ripping off America!
— Donald J. Trump (@realDonaldTrump) May 12, 2019
Yet while we now know how and why the trade talks unraveled so fast thanks to a detailed expose by the WSJ, which reports that "U.S. and Chinese governments both sent signals ahead of their trade talks in Washington last week that a pact was so near they would discuss the logistics of a signing ceremony" but "in a matter of days, the dynamic shifted so markedly that the Chinese deliberated whether to even show up after President Trump ordered a last-minute increase in tariffs on Chinese imports because the U.S. viewed China as reneging on previous commitments", the question remains what this means for markets.
While there have been various "hot takes" on what the latest escalation means for risk assets, with many suggesting that a "no deal" outcome potentially triggering a plunge in the S&P below 2,600 and forcing the Fed to cut rates, one of the better assessments of the future state of capital markets as a function of the ongoing trade war, comes from Bank of America's chief economist Ethan Harris, who in "Once more to the brink" writes that his "long-standing view on the trade war is that the Trump Administration wants deals and will compromise, but only after it extracts the maximum concessions." To Harris, this is a pattern of big demands and moderate concessions that we have seen play out repeatedly. And this case is no different: both the US and China want a deal, "but motivating the inevitable compromise requires some combination of market, economic and political pain."
Specifically, we have seen this framework play out in the past year in two ways:
First, the trade war with China showed no sign of abating until the equity market correction in 4Q. Second, tariffs on consumer products-including both the last tier of Chinese goods and autos-keeps getting postponed. It is much easier to impose indirect taxes on consumers by tariffing intermediate and producer goods than to directly tax consumer products.
In this context, BofA claims that the Trump Administration's recent decision to threaten and then deliver more tariffs should not come as a big surprise… although judging by last week's S&P tumble, the worst weekly drop of the year, it did in fact come as a big surprise. Still, for those who were following the underlying facts instead of the sugar-coated narrative, last week's events indeed should have been predictable, largely thanks to recent economic and market news which emboldened both sides to trying and get a better deal.
Case in point: China's equity market has improved dramatically and green shoots have appeared, greatly improving their perceived negotiating position. Meanwhile US markets have fully recovered from the trade war sell-off, the data point to a soft landing and the Fed has signaled that it will do what it takes to sustain a strong labor market and inflation pressure. Little wonder then, as Harris writes, that China is trying to back track and the Trump Administration is reacting strongly. Moreover, if Trump is looking for clues from the market, he is getting precisely what he would like to see: with the Shanghai Composite entering a correction from its April highs, and the S&P 500 down only 2.5% since the tariff tweet, "following through on the threat makes sense as well."
Yet while 20-20-hindsight is easy in a moment like this, what traders would like to know is what happens next, or as Bank of America puts it, pun not intended, "when put comes to shove." It also explains why the US equity market has barely dropped from its recent all time highs:
As Harris explains, a popular view is that markets won't go down much because they believe there is a "Trump put." And yet, this is only half correct. Yes, Harris admits, there is a put, but it is not zero: it only kicks in after the markets correct. Hence belief in the put tends to delay the correction, but ultimately continued brinkmanship will eventually cause the correction. There is another more pernicious side-effect of the market ignoring fundamental newsflow and trading on the assumption that Trump will eventually fold if stocks drop low enough: the longer it takes for that correction to happen the more likely some irreversible decisions that affect the efficiency of the global economy are taken on the corporate side.
This then leaves both Bank of America, and investors, with three difficult and related questions.
First, how low is the put? Is it 5%, 10% or something worse? According to BofA's estimates, trade war news accounted for about 4.1% of the S&P correction in 4Q and 1.4% of the recovery. The Fed also was an important factor in this down and up pattern.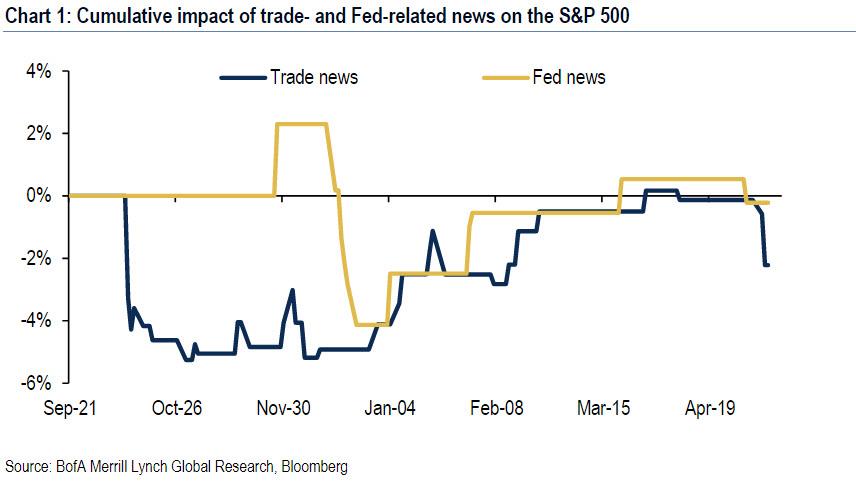 Second, how far apart are the two sides in the negotiations? It is hard to know as both sides were "spinning" that there was steady convergence and now both sides are "spinning" the opposite. This makes sense since they were at first trying to assure the markets and are now trying to play hard ball in getting a better final deal. We still assume the true divide is bridgeable. Third, BofA contemplates the "World War I" scenario, namely could there be an accident where both sides miscalculate and stumble into a protracted war even though it is in neither side's interest?" For now, BofA's top economist still sees this as very much a tail risk as the market and political costs will escalate dramatically in a full-blown war that extends to all Chinese products, including many consumer products. Wars are popular during the departure parades, but not when the casualties mount. However, the longer both sides dig in without any material decline in the US stock market, the ultimate arbriter of any Trump decision, the harder it will be to prevent events to take on a deteriorating life of their own.
For now, Harris assumes the escalation has a relatively small impact on the medium term outlook, because while it adds to the case for weak capital spending, it does not alter the bank's global "soft landing" scenario. The risk, of course, is that markets take time to create enough pain and some persistent damage is made to the global economy. The subsequent upside would then be smaller.
Meanwhile, as the bank concludes, "the next few weeks could be rocky."
Finally, for those looking for a more granular breakdown of how the S&P is affected by the three distinct scenarios of US-China trade negotiations, i.e., "benign", "brinkmanship" and "no deal trade war", BofA lists them out in the chart below.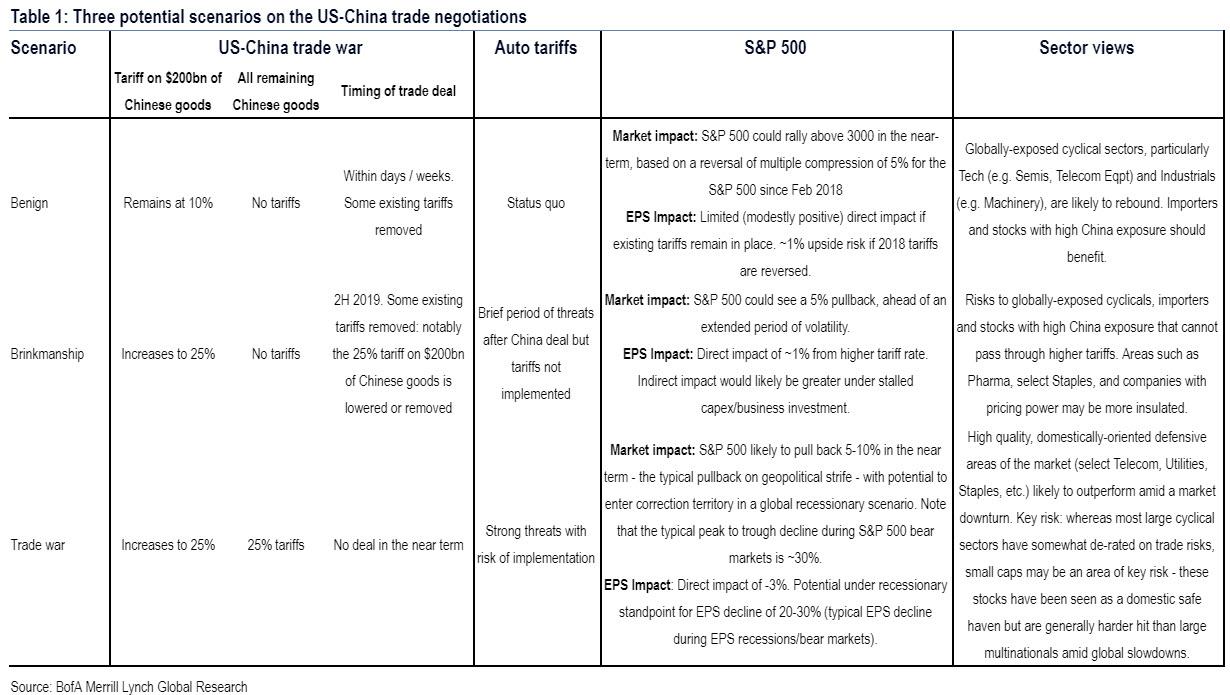 Read more: feedproxy.google.com